The importance of outdoor spaces
In this article discover how to enhance your outdoor spaces. In recent years, there is a certain awareness in our society. Processed foods are being replaced by organic products. More and more importance is given to sorting and recycling. There is a real desire to get closer to nature.
This trend is also reflected in the real estate sector. Indeed, buyers are giving increasing importance to the presence of a green space.
Thus, an element that used to be an asset can now play a key role in customers' purchasing decisions.

However, people often negigate outdoor space. Tired weeks, bad weather, busy schedules – there are many reasons why homeowners forget to maintain their outdoor space.
This may not be a problem for them. But for you, as a real estate agent, it can become a real headache. Making the exterior space attractive is essential to the sale.
Indeed, its poor condition spoils all its potential and could make your customers miss the heartthrob.
Our solution to enhance the exterior
PLAN IT ALL has the solution to beautify the photos of the exterior of the property. Opt for the virtual exterior home staging. This way, clients can more easily project themselves, you will be able to take advantage of the importance of outdoor spaces.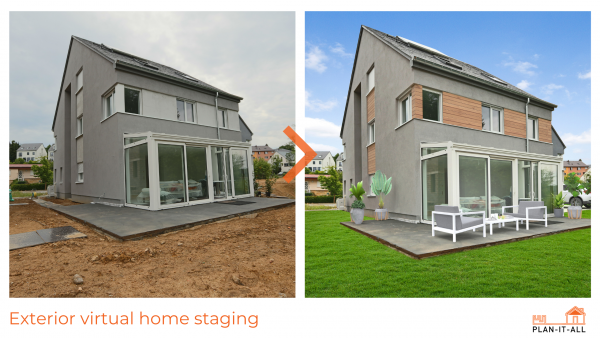 Request a quote for outdoor home staging
To receive a quote, go to your PLAN IT ALL account. Then choose the virtual exterior home staging service. Send us your instructions and your files. We work from your pictures. You will receive a firm quote within 3 hours.
In the shortest possible time, your dilapidated terraces and overgrown gardens are transformed. They will become sources of inspiration to become truly welcoming and warm places for the summer evenings of your customers.
Join our newsletter
Volutpat vel turpis nulla lorem sed semper. Aliquam sagittis sem libero viverra vehicula nullam ut nisl.