In this article, find out why you should choose PLAN IT ALL 3D renderings.
Why choose 3D renderings?
Did you know that? The new real estate market has seen a rather impressive increase in prices in recent years. In figures, it is a price increase of 7% over the year 2021. This increase is not without consequence on the behavior of your customers.
Indeed, a real estate investment is often the investment of a lifetime. It is a source of much reflection and questioning. One of your clients who was previously motivated to buy a new property could be discouraged by the increase in new property prices.
It is therefore more important than ever to help them project themselves into their future home.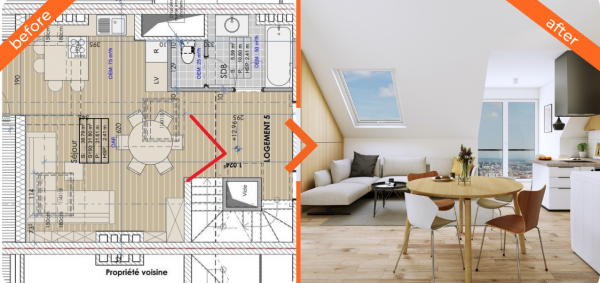 Indeed, the lack of projection often discourages a motivated client. In front of an architect's plan, it is difficult to visualize a welcoming home. This can quickly scare off potential buyers. This is why it is interesting to use 3D renderings! They allow you to obtain a concrete visual of your project. It represents the image of a living room, a cozy bedroom will be much more evocative for your customers than simple plans.
Your customers will fall in love with your project much more easily.
The offer of Plan IT ALL
We offer you our 3D rendering services. From plans or dimensional sketches, we create beautiful images that show the key rooms of the property in perspective. Your potential clients will instantly fall under the spell. They will see in your property the same potential as you do. Discover other examples of 3D virtual reality made by us.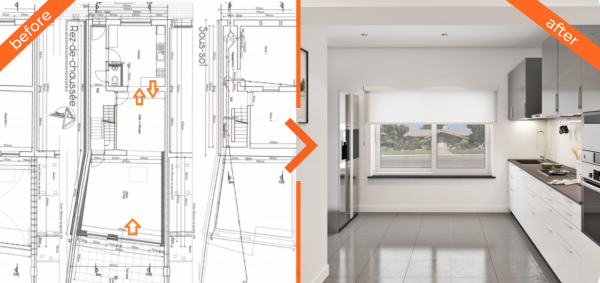 For the moment, requests for quotations for the 3D rendering service can only be made by email to support@plan-it-all.com. You just have to send :
the number of 3D renderings
the plans annotated with the desired viewing angle for each rendering (each room)
the style (Scandinavian, modern or classic) and the tones to follow
As soon as possible, you will receive a price offer and a clear delivery time. If you accept it, you will receive beautiful visuals. You can then integrate them into your ads and show them to your customers during your visits.
If you have any problems or questions, our experts are at your service!
Join our newsletter
Volutpat vel turpis nulla lorem sed semper. Aliquam sagittis sem libero viverra vehicula nullam ut nisl.