In this article, discover our floor plan customisation tool.
Why choose our floor plan customisation tool?
In the middle of the flood of real estate ads available online, it can be very complicated to stand out. Adding professional 2D or 3D plans to your ads is a first solution! But at PLAN IT ALL we want you to stand out a little more.
That's why we offer you our plan customisation tool! This tool is accessible from your account by clicking on "CUSTOMISE" in the left menu.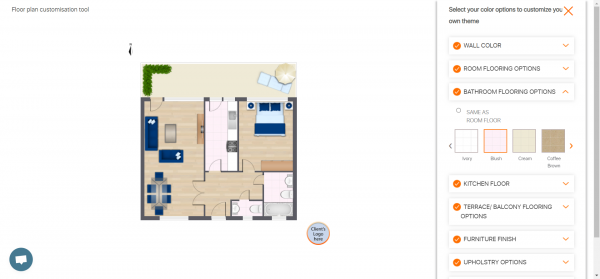 What does "plan customisation tool" mean?
First of all, it allows you to put forward your brand image. You can then add your logo but also your contact information. Add for example the website, address, email, phone number of your real estate agency.
You can choose the position on the page of the North arrow to indicate the orientation of the property. The disclaimer is always annotated on our plans. (Plans are provided for information purposes only and are not contractual).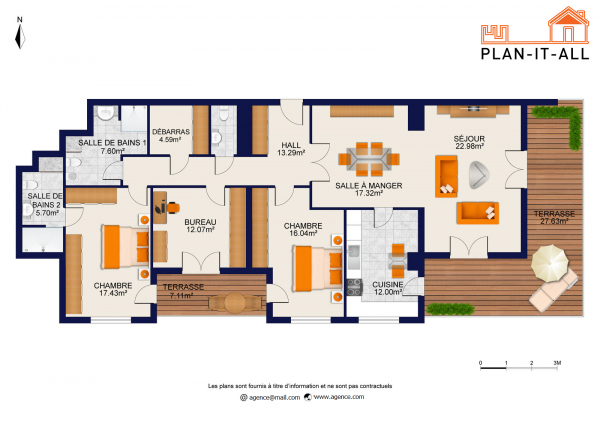 Choose and create your own color template
Secondly, customising your plans also means being able to choose and create your own color template.
We offer you to create your own personalized template. You will be able to choose the colors and textures of the floors, the walls but also the furniture and the furnishing fabrics. Whether you want to give a specific style to your plans or highlight the colors of your agency, you will find the perfect option with our tool.
Once created, you only need to pay for the template (40€ HT) once. This template will then appear in the choice of color themes when placing your plan orders. It can be used for each order of plans without any additional cost. This service is available for 2D Standard, 2D Standard with furniture and 3D Standard plans only.
How to order my custom plans ?
Register or login to your PLAN IT ALL account
Choose the product you want (among those that can be customized)
Choose your design from the selection of color themes

Proceed with the following of the order
Join our newsletter
Volutpat vel turpis nulla lorem sed semper. Aliquam sagittis sem libero viverra vehicula nullam ut nisl.