Photo-based virtual renovation on real estate photos? An innovative and effective real estate marketing solution!
Did you know?
By 2023, property prices will have fallen by an average of 1%. In some regions, this drop is much more pronounced. In the Paris region, for example, prices have fallen by 3.3%.
Against this backdrop, it is more important than ever to offer attractive listings. A property that stands out from the crowd makes it easier for potential buyers to make a decision. Attractive real estate ads can help you sell your property at the best price despite this unfavorable context.
An out-of-date property can quickly put a damper on buyers' expectations.
At Plan It All, we're well aware of this problem. That's why we've developed a range of services to address it, including our virtual renovation service based on real estate photos!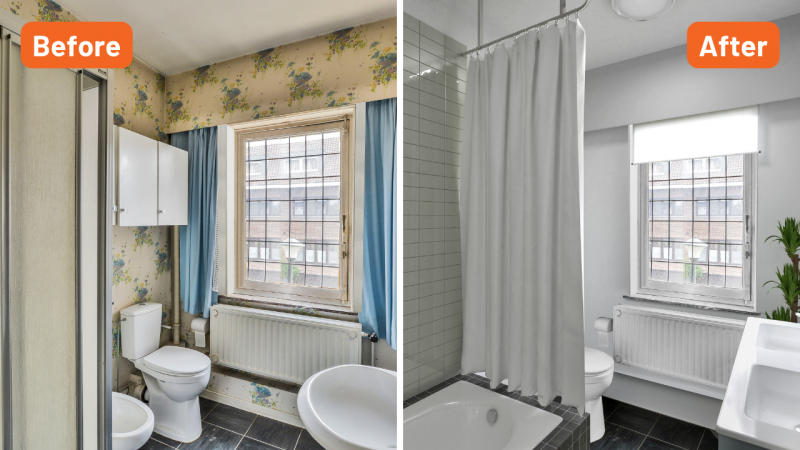 Photo-based virtual renovation, how to order?
At PLAN IT ALL, we're committed to making the ordering process as easy as possible. Use our marking tool to quickly and easily indicate the elements to be removed. Then briefly indicate the elements to be added and the desired style.
Our expert team will then examine your request. You'll receive a quote within 3 working hours. Delivery time will depend on your virtual renovation project.
NEW! We now offer you the possibility of creating interactive before-and-after visuals! What's in it for you? To enable potential buyers to discover the potential of your property interactively! You'll be able to integrate them not only into your real estate ads, but also onto your website!
At PLAN IT ALL, customer satisfaction is our top priority. That's why our support team is always at your disposal. If you have any difficulties placing an order, or if you have any questions, please don't hesitate to contact us!
Join our newsletter
Volutpat vel turpis nulla lorem sed semper. Aliquam sagittis sem libero viverra vehicula nullam ut nisl.