Are you looking for an expert capable of providing you with a 3D floor plan? Do not wait any longer! PLAN IT ALL offers 3D plans with a wide range of possibilities: finishes, themes, etc. In addition, our team attaches great importance to fulfill all your requests quickly. Always with professionalism. So, order now with PLAN IT ALL. Your plans are delivered in 24h (3D finish option).
Why use 3D floor plan in your real estate ads ?
At first, a 3D floor plan allows your customers to project themselves into a house or an apartment they plan to buy off plan. With 3D visualization, you enable your customers to better understand your ideas. And to better imagine their future life in the property you present them. Therefore, your future buyers will certainly be more comfortable to make the purchase. You will moreover create trust between your projects and your customers. This is essential for the success of such a transaction.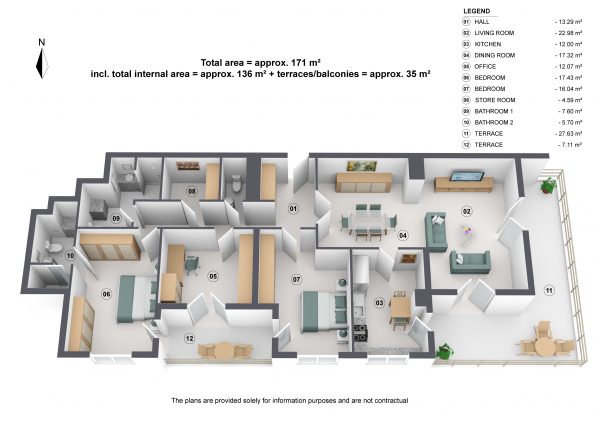 What kind of 3D floor plan do we offer ?
PLAN IT ALL offers two levels of finishing for your 3D floor plan:
3D STANDARD:  This level of finish is available within 24 hours. You can also customize your 3D plans, using our online customization tool, with your colors, logo, etc.
3D PRO :  This level of high-end finish is available within 96 hours. For your 3D PRO plans, you can choose from 5 different themes. Of course, you can customize your 3D PRO plans, adding your logo, information about your company, etc. Many examples of 3D floor plans are presented on our site.
Should the above two options not meet your requirements, please contact our sales team (sales@plan-it-all.com) for a bespoke offer that meet your specific needs.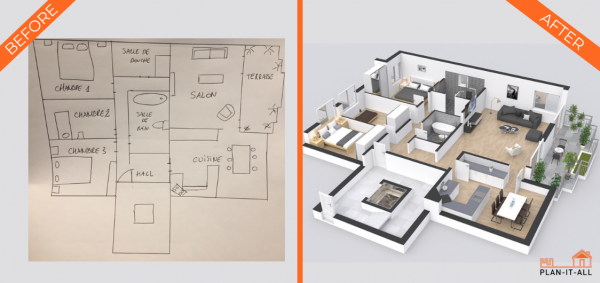 Why choose PLAN IT ALL?
At first for our professionalism. PLAN-IT-ALL is committed to delivering your 3D floor plans on time. However, this speed does not infringe on the quality of the rendering of your project. Your plans are always handled by qualified professionals.
Secondly, for the ease of ordering. All you need to do is upload a picture of a sketch or architect's plan on our PLAN IT ALL portal. Then you can select from different plan finishes. In addition, you can personalize your plans using our customization tool. This will allow you to differentiate yourself from your competitors.
Thirdly for our flexibility. If a service is not available from our PLAN IT ALL portal, do not hesitate to contact us (sales@plan-it-all.com). We will endeavour to respond to your particular request.
Order your 3D floor plan now.
Join our newsletter
Volutpat vel turpis nulla lorem sed semper. Aliquam sagittis sem libero viverra vehicula nullam ut nisl.